The Client
The Sustainable Building Envelope Centre (SBEC) is a research centre co-funded by Tata Steel, the Low Carbon Research Institute and Welsh Government focussing on accelerating the development of low carbon solutions for the built environment. The BREEAM approved centre is being used to test and monitor new integrated heating, energy and ventilation systems on the fabric of the building. These include energy generation through active solar collectors and photovoltaics, energy storage through composite roof and wall media, and using phase change material to maintain constant temperature levels.
The Challenge
As the aim for the building was to be used as a test bed to assess the efficiency of new integrated heating, energy and ventilation systems on the fabric of the building, it needed to incorporate a wide range of sustainable technology concepts in its construction that had the ability to be linked to monitoring equipment to assess the impact of system changes.
The building comprises various office spaces and facilities located across the ground, first and second floors. The heating and cooling to these areas is to be provided via a combination of sources, a full building energy management system is required to ensure the most efficient use of these energy sources. The Transpired Solar Collector also delivers energy as a primary heat source which has to be factored into the overall operation of the building services.
The Solution
The new facility was to be created within the existing fabric of a former steel processing plant, in essence creating a building within a building.
The project commenced with the isolation and removal of existing Mechanical & Electrical Services to create the new building footprint.
The Rosebery Group then began the process of designing and installing new surface mounted cable containment systems bespoke to the new installation. New power distribution systems to new research & development work areas were then installed along with UPS standby power supplies.
A new surface mounted architect designed energy efficient lighting system was installed throughout the building.
A new IT Data Server room was created with local cooling capacity along with a new CAT 6 data system to all new workstations.
Surface mounted fire alarm detection systems and security access systems were provided throughout.
New surface mounted containment and cabling systems were then installed throughout the building for the integration of a new Building Energy Management System consisting of a new VRF system, hot water services, rain water harvesting, gas fired heating system and the full BEMS network as part of the energy efficient installation. New mini plant rooms housed within glazed pods were created and located on each floor level within the building.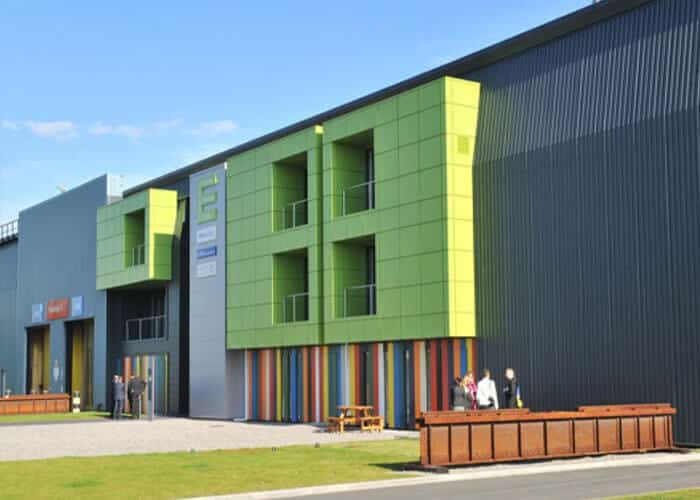 Project Information
Project Management
Primary & Secondary Containment Installation
Lighting & Emergency Lighting Systems
Electrical Power and Control Cabling
Building Energy Management System Installation
LV Power Distribution Systems
UPS Installations
Primary & Secondary Containment installation
UPS installations
Electrical Testing and Inspection
IT Fibre & CAT 6 Data Installation
Fire Alarm Installations
Security System Installations
2,000 Hours Worked – No Lost-Time Accidents
Project Completed on Schedule and within Budget